{ nsIf:DisableTwitterCard }
Switch to accessible version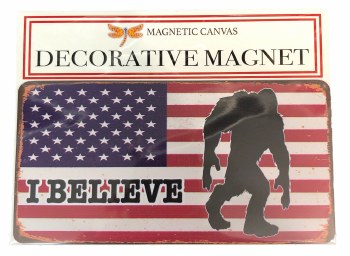 'I Believe' Bigfoot American Flag Magnet
$5.99
2 3/4" H x 5 3/4" W

Great for your refrigerator, cooler or car!

Bigfoot, also known as Sasquatch, is the name given to an ape-like creature that some believe inhabits the mountains and forests of North America. Bigfoot is described as a large hairy ape-like creature, in a range of 6.6-9.8 feet tall, and covered in dark brown or dark reddish hair. The enormous footprints for which it is named have been as large as 24 inches long and 8 inches wide,
Customer Reviews
This product has not yet been reviewed.