{ nsIf:DisableTwitterCard }
Switch to accessible version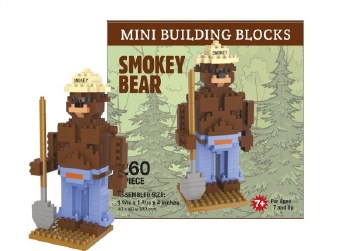 Smokey Bear Mini Building Blocks
$10.99
For Smokey the Bear, every little piece of America's public lands deserve protection. The US Forest Service's fire prevention mascot has been promoting his leave no trace message to families since the 1940's. Over the decades this iconic figure has also introduced generations of children to the importance of America's forests.

Build your own Smokey the Bear from head to toe with this fun mini building block set! Junior Rangers of all ages can follow the simple, color diagrams to construct this beloved symbol of our national forests. It makes a great gift for any public lands fan or budding naturalist in your life!
Customer Reviews
This product has not yet been reviewed.